Association of Smoking Habit With Nasopharyngeal Carcinoma Stage in ENT-HN Policlinic RSUP DR. Mohammad Hoesin Palembang
Abstract
Karsinoma nasofaring (KNF) adalah tumor ganas yang berada dibagian mukosa rongga nasofaring yang disebabkan oleh banyak faktor, salah satu faktornya adalah merokok. Kebiasaan merokok meningkatkan kepekaan terhadap terjadinya KNF. Merokok menyebabkan terjadinya mutasi gen p53, gen p53 memegang peranan terhadap kerusakan DNA sel dengan jalan menghambat progresi sel. Hilangnya fungsi gen p53 menyebabkan hilangnya kontrol pada siklus sel, sehingga terjadi proliferasi sel-sel sehingga besar peluangnya untuk menjadi sel kanker. Penelitian ini bertujuan untuk menganalisis hubungan kebiasaan merokok dengan stadium karsinoma nasofaring.Penelitian ini adalah studi observasional analitik dengan rancangan cross sectional. Sampel adalah pasien poliklinik THT-KL dan rekam medik pasien karsinoma nasofaring di RSUP Dr. Mohammad Hoesin Palembang bulan Januari 2017-Desember 2018.Sampel penelitian ini berjumlah 70 kasus.Hasil penelitian ini akan disajikan dalam bentuk tabel dan narasi.Dari 70 kasus pasien KNF didapatkan semua penderita adalah laki-laki (100%), kelompok usia ?50 tahun (52,9%), pekerjaan non PNS (90%), alamat diluar Palembang (82,9%), keluhan utama benjolan pada leher (42,9%) dan stadium 4 (81,4%). Hasil uji Fisher's Exact Test tidak terdapat hubungan yang bermakna antara jenis rokokdengan stadium KNFdinyatakan oleh p value=0,067, terdapat hubungan yang bermakna antara jumlah konsumsi rokokdengan stadium KNFdinyatakan oleh p value=0,042 dan tidak terdapat hubungan yang bermakna antara usia mulai merokokdengan stadium KNFdinyatakan oleh p value=1,000.Hasil uji korelasi pada pasien KNFmenunjukkan bahwa jumlah rokok (p= 0,043)merupakan faktor determinan terjadinya stadium KNFdanjenis rokok (p= 0,198) bukan merupakan faktor determinan terjadinya stadium KNF. Terdapat hubungan yang bermakna antara kebiasaan merokok dengan stadium KNF.
Keywords
KNF; Stadium KNF; Kebiasaan Merokok
References
Khoo, Alan Soo Beng and K. C. Pua. 2013. Diagnosis and Clinical Evaluation of Nasopharyngeal Carcinoma in Nasopharyngeal Carcinoma Keys for Translation Medicine and Biology. Landes Bioscience and Springer Science, New York.
Martono, H.H. dan K. Pranarka. 2011. Geriatri (Ilmu Kesehatan Usia Lanjut): "Kanker Pada Usia Lanjut" (edisi ke-4). Balai Penerbit FKUI, Jakarta, Indonesia, hal. 568-578.
Salehinya et al. 2018. Nasopharyngeal Cancer In The World: Epidemiology, Incidence, Mortality and Risk Factors. World Cancer Research Journal (WCRJ) 2018; 5(1): e1046, hal. 1-8.
Ma, Jun and Sumei Cao. 2010. Nasopharyngeal Cancer. Multidisciplinary Management. Springer-Verlag Berlin Heidelberg, London New York.
Situmeang SBT, Jusuf A, Arief N, dkk, 2002, Hubungan Merokok Kretek Dengan Kanker Paru, Jurnal Respirologi Indonesia. Official Journal of the Indonesian Association of Pulmonologists, vol.22, no.3,pp.109-17.
Aditama TJ, 2004, Sepuluh Program Penganggulangan Rokok, Majalah Kedokteran Indonesia, vol. 54, no.7, pp. 255-9.
Caldwell E, 2001, Kasus-Kasus Medis Mengenai Merokok, Berhenti Merokok, LKiS. Pustaka Populer, Yogyakarta, pp. 5-29.
HsuWL,ChenJY,ChienYC,LiuMY,YouSL, HsuMM etal.Independent EffectofEBVand Cigarete Smokingon Nasopharyngeal Carcinoma:A20–YearFollowupStudyon 9,662Males withoutFamilyHistoryinTaiwan. Cancer Epidemiol Biomarkers Prev 2009;18(4):1218-26.
Irsan Nasution, Ibrahim. 2007. Hubungan Merokok dengan Karsinoma Nasofaring. Fakultas kedokteran universitas sumatera utara.
Pelucchi C, Gallus S, Garavello W, et al, 2006, Cancer Risk Associated with Alcohol and Tobacco Use : Focus on Upper Aerodigestive Tract and Liver, Health Risks, vol.29, no.3,pp.193-8.
Zhu K, Levine RS, Brann EA, et al, 1995, A Population-Based Case-Control Study of the Relationship Between Cigarette Smoking and Nasopharyngeal Cancer (United States), Cancer Causes and Control, vol. 6, pp. 507-12.
Chow WH, McLaughlin JK, Hrubec Z et al, 2006, Tobacco Use and Nasopharyngeal Carcinoma in a Cohort of US Veterans, International Journal of Cancer, vol 55, no.4, pp. 538-40.
Cheng YJ, Hildsheim A, Hsu mm, et al, 1999, Cigarette Smoking, Alkohol Consumption and Risk of Nasopharyngeal Carcinoma in Taiwan, Cancer Causes and Control, vol. 10, pp.201-7.
Friborg JT, Yuan JM, Wang R et al, 2007, A Prospective Study of Tobacco and Alcohol Use as Risk Factors for Pharyngeal Carcinomas in Singapore Chinese, American Cancer Society, vol 109, pp.1183-91.
DOI:
https://doi.org/10.36706/mks.v51i2.8537
Refbacks
There are currently no refbacks.
Indexed in:
_________________________________________________________________________________________________________________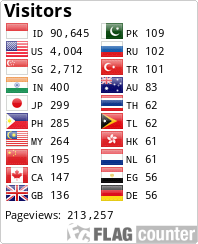 View My Stats